To Activate a Tracer Tag or Purchase a Retail Pack, Click Here.


Custom Imprinted Plastic Tags To Promote Your Company or Special Event!
Tracer Tags has a selection of custom imprinted promotional tags just right for your company or organization! We offer Premium Quality, Affordable Pricing AND Fast Turnaround!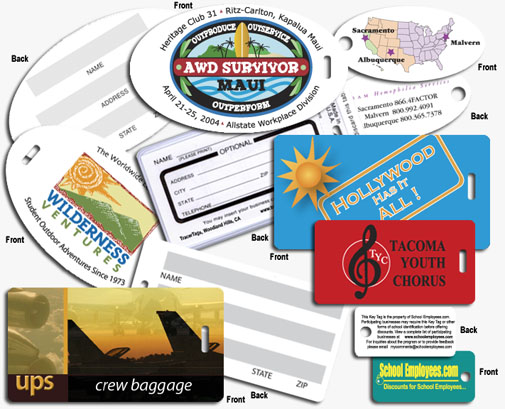 Let Our Custom Imprinted Plastic Tags
Brand and Promote Your Company
Raise your visibility!
Promote your brand!

Use to promote awareness and fundraising campaigns.
Promote Company Events
You're only limited by your imagination!
Membership Cards
Loyalty Cards
Library Cards
Gift Cards

Phone Cards
Hospitality Cards
Badges
Luggage Tags

Key Tags
Golf Bag Tags
Pet Tags
Combo Key Tags & Card
Contact us today for a quote!

Home • Custom Tags • Lost & Found Tags • Product Information • Catalog / Pricing
Frequently Asked Questions • Contact Us • Tell a Friend

No part of this publication may be reproduced in any form or by any means, electronic, mechanical, photocopying, recording or otherwise, without the prior written permission of the publisher.

© 2002-2006 Tracer Tags. All Rights Reserved.